In the area of Puerto Galera there are around 30 different dive sites from 3m reefs to 60m wall and drift dives. Below are a few descriptions of some of the favourites.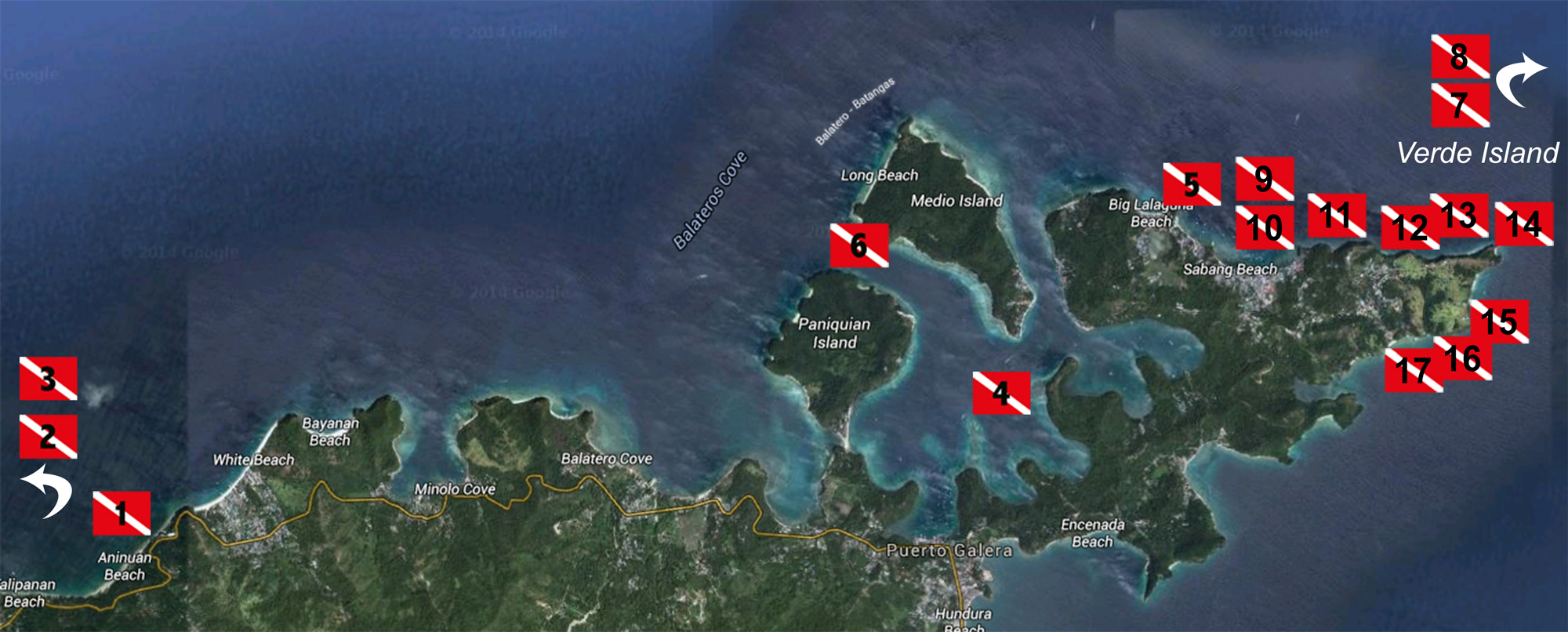 1. ANINUAN HOUSE REEF - ALL LEVELS - 4-27M
The house reef is just a short surface swim from the dive centre. We descend on the first reef and then slowly work our way towards the deeper reefs depending on certification level. The reef is home to an abundance of marine life. Schools of juveniles in the shallows, a couple of resident Hakwsbill Turtles and many Nudibranchs, leaf, lion and scorpion fish.
2. TALIPANAN REEF - ADVANCED - 15-30M
The top is at 15m and has a huge diversity of small fish, basket sponges, hard and soft corals. On the northwest face it drops off to over 80m where gorgonian fans are abound. In the open water shoals of midnight and black snappers and surgeonfish including unicornfish abound together with rainbow runners, tuna, white-tip reef sharks and eagle rays.
3. HIBO REEF - ADVANCED - 18-40M
Hibo Reef is one of the remote dive sites of Mindoro. The site has strong currents above water but mild underneath. Free swimming reef sharks and hawksbill turtles can be seen in this area. Most of the best picturesque coral can be seen in this area.
4. GIANT CLAMS - ALL LEVELS - 5-18M
The dive is normally started on the sandy bottom at 18m where we often find seahorses, frogfish and pipefish. From here we navigate closer to the reef at 12m where many beautiful hard and soft corals are located.

Turtles, big snapper and many other reef fish are found in abundace here and the dive ends over the giant clams for a saftey stop with a difference.
5. LA LAGUNA POINT - ALL LEVELS - 5-18M
On the edge between Big Lalaguna beach and Small Lalaguna ditto, extends a small wall with a very healthy reef. Starting at 5m, it drops down to 18m where a lush coral slope takes over down to 20m. The wall has cracks and crevices with an amazing variety of marine life: from colonies of Anemonefish to Scorpionfish, schools of Longfin Bannerfish, Sweetlips, Cardinalfish, Triggerfish and hiding Lionfish. Look out for the real Clownfish, there are a few families here.
6. MANILA CHANNEL - ALL LEVELS - 5-25M
Hard, stony corals can be found in this dive site which can already be seen at 1m of the water. Also remains of a shipwreck that caught fire and sunk hundreds of years ago can be found here although not much of it is left now. The site is similar to the Batangas channel but with a deeper maximum depth of 80feet. This is ideal for underwater photography and night dives.
7. VERDE ISLAND DROP OFF - ADVANCED+ -5-70M
Deep and dramatic are the best words to describe this site. With visibility of often greater than 30m, the underwater mountain offers a seascape hard to rival. The walls are covered in hard and soft corals with huge Gorgonian fans. Thousands of colourful Anthias and Damsel here as well as some of hunting Jack and Tuna fish in the blue. When the current is not too strong, the keener eyed diver can spot many species of Nudibranch her too!
8. VERDE ISLANDS MINI CANYONS OR WASHING MACHINE - ADVANCED+ - 5-60M
As the name suggests, this site can be lots of fun for the experienced diver! The canyons, perhaps formed by the strong currents, can be explored when the current is slow but when it rips you can be drifting nicely only to have your direction reversed or even up and down. This is also a beautiful site with very healthy and colourful soft and hard corals. Frogfish are found here and are common if not hard to spot! There are also good opportunities to see Black and White tip Reef sharks here as well as the off the wall pelagic hunters especially when the current is running.
9. ALMA JANE WRECK - ADVANCED - 22-30M
The wreck of the Alma Jane was sunk in 2003 (but looks about two decades older). Originally a filipino cargo vessel, she was stripped of dangerous objects before sinking and is today a perfect artificial reef standing upright on the sandy bottom.
10. SABANG WRECKS - ALL LEVELS - 5-18M
The most famous dive site in Puerto Galera, the Sabang Wrecks are the photographer's and macro lover's mecca. At first glance, the three wrecks don't look too impressive. One small steel yacht, and two wooden boats in different stages of decay.

From the wrecks we swim into Sabang bay for the rest of the reef dwellers and hopefully the resident Green Turtle who is oftern feeding on the seagrass at 5m.
11. SABANG POINT - ALL LEVELS - 5-25M
Pristine hard and soft corals adorned with colorful Crinoids cover this beautiful reef from very shallow down to 25m. At 20m, you will encounter a small wall that drops off to a white sandy bottom.
12. MONKEY BEACH - ALL LEVELS - 5-25M
A coral slope down to 20m makes this an easy dive, except from when currents are running – you can pick up quite a lot of speed here. If you drop in the middle of the bay, you will most likely encounter a wreck at 18m, tilted to the side.
13. DUNGON BEACH/WALL - ALL LEVELS - 5-25M
From a beautiful hard and soft coral slope, you'll find yourself on a pretty wall starting at 12m and continuing down to 25m. The wall has plenty of cracks and crevices with Lionfish, Scorpionfish and Porcupinefish hiding in them. The wall is also famous for its assortment of Nudibranchs and Flatworms.
14. HOLE IN THE WALL - ADVANCED - 5-30M
The actual hole in the wall is a short tunnel at 12m through a mini mountain that constitutes the dividing range between ebb and tide.

Around the hole when the current is strong there are many fish feeding and the feeling is like being in an aquarium!

From the hole be careful not to be blown away by the strong current or you will miss the interesting canyons and all the life it has to offer.
15. SINANDIGAN WALL - ADVANCED - 5-30M
A rocky slope is broken up by two walls, the bigger going down to 30m where big rocks are scattered on the bottom. Between the walls hundreds of Nudibranchs flourish, as do countless Sea Cucumbers. The diversity is massive.
16. KALIMA STEPS - ADVANCED - 10-30M
A fantastic dive for the diversity of the fish and coral found here. Starting in shallow water, the dive site consists of flat areas broken up by small walls – ridges – at all depths, with the deepest one in 30m.

The reef is literally teeming with life, with schools of antheas, Surgeonfish, Angel Fish, Butterflyfish, Parrotfish and all the other common reef fishes.
17. CORAL COVE - ALL LEVELS - 5-20M
A wonderful dive site for macro lovers. A sloping reef ends in a small wall at 20m that follows the reef along for quite some time.